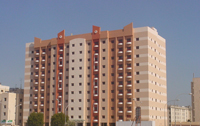 It is pretty touch and a fine architectural added to the achievements of Tijara & Real Estates Investment Company. It is not just a residential complex but a unique lifestyle for its residents.
The complex replies the needs of those who have refined taste and collections of those who desired the privatization. Also it provides luxury because the complex is characterized by a unique residence. The safety factors were put in consideration.
Yes, it is not only residential complex but it is a unique lifestyle inside architectural masterpiece.
The complex consists of 2 towers are similar each tower has 10 repeated floors with a joined entrances and refined services has all the methods of entertainment and comfort and safety for its residents with a unique style and this allows its residents to choose the full furnished apartments or half furnished or non furnished. The complex has the hotel services to satisfy the needs of the residents.
It is worth mentioning that Tijara & Real Estates Investment Company has finished the complex before 3 months of its specified time schedule depending on its self experience without the support of entities outside. The project was executed by the well experts in constructions. Tijara & Real Estates Investment Company was the main contractor who undertook execution the project from the beginning till the end.
Advantage of the Project
Residential tower replies all the family requirements.
Little numbers of the residential unit in each floor where are the distinctive apartment which has all the privacy elements and undertaking the high quality for the materials used and the engineering design that matches with all the tests.
The complex has all the services that guarantees to the residents the most modern of comfort, entertainment and safety like security services around the hour, reception services, and business main center, central air-condition, closed car parking, elevators, integrated swimming pool and health club, central internet and satellite services.