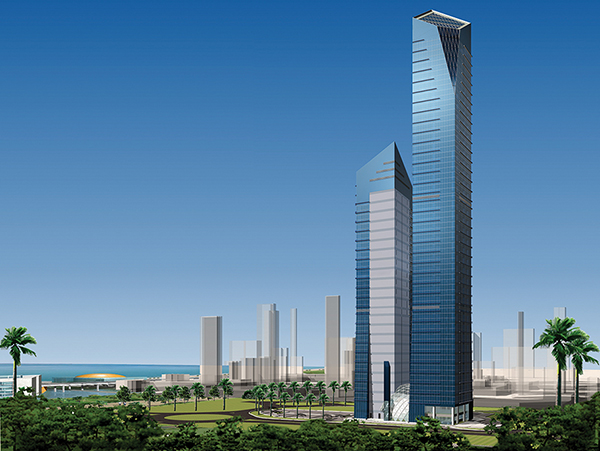 Designed as the metropolis of the future, February 25 Tower integrates all the functions and facilities of a modern-day workspace complemented by the most mesmerizing views that adds zest to one's work life.
Distinguished by a premier address—the plush and ultra-modern business street of the Sharq area near the Bahbahani roundabout— and a name that encapsulates the historic Independence of Kuwait, February 25 Tower is an epitome of class, modernity and a prelude to what the future holds.
25 Tower project comprises a unique offices tower, spanning a total area of nearly 1000 sqm & awe-inspiring structure. The tower ascends to 34 floors.
The office spaces within the tower are supported by world-class infrastructure and designed to attract technology savvy organizations. With amenities such as internet, fax, telephones and smart lightning for all access doors built into the structure as well as a remarkably modern construction style, not to mention 6 high-speed elevators to complement the infrastructure and add to the feeling of refined living. The tower exerts multiple pull factors for global brands.
Safety measures in and outside the tower are on par with the world's best. Not only are surveillance cameras installed everywhere, the tower also encompasses advance fire fighting & early alert systems as well as 24 hours guard service.
In true signature style, the February 25 Tower is a unique fusion of form and functionality.
Tower features:
Commercial offices ( approx. 280 sqm)
6 elevators
Internet & IP telephony infrastructure
For more details about this project, kindly contact our Real Estate department at 1888809 ext. 119 or send an email at: info@tijara.com.kw