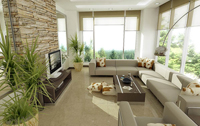 The Cliffs is a charming project that offers a welcoming and cosy atmosphere amidst an ecstasy of the blue sky, the green sea and the quiet of the cliffs. Inspired by nature, the project is nestled in the prestigious Al-Shaab district by the Arabian sea—a location that offers its inhabitants the benefit of being away from the bustle of the city yet remaining within comfortable distance to fully enjoy the dynamics of city life.
The Cliffs offers villas as well as residential units constructed in a style and grandeur that's second to none. The 12 independent, upscale and luxurious villas occupy three floors each and span an area of 325 sq.m including elevator and a private garden. The residential units, 26 in number, are spacious, elegant and modern. Each of the homes enjoys splendid sea views on one side and beautifully landscaped gardens on the other.
Within the interiors of the villas and residential units, every single detail has been carefully thought of, every amenity and facility included to create a hub of tranquility and retro experience for those that live there. The impressive list of on-site recreation and relaxation facilities include an adult swimming pool and a kids' pool, separate health clubs for men & women and squash courts. What's more, 4 service elevators where as 2 are with panoramic sea view and a 4 level parking lot that can accommodate up to 111 cars adds to the comfort and convenience.
The reception hall and living rooms are rich, warm and inviting particularly suited for the lifestyle of the elite. The master bedroom and guest bedroom is quite simply a fusion of traditional designs combined with beautiful materials that achieves a chic understated look. Both rooms feature an attached bath and changing room. The fully modular kitchen is as striking in design as it is in functionality. The homes also have two extra bedrooms with attached bath in addition to a maid and driver room. A range of high quality fixtures, fittings and styling materials complement the contemporary settings creating a cool modern yet timeless appeal.
Project features:
12 Villas
26 residential apartments (250-280 sq.m)
4-tier parking lot that can accommodate up to 111 cars.
Entertainment services that include a squash court, an adult and children's swimming pool, two separate health clubs for men and women.
4 elevators (2 are panoramic with sea view).
Villa features:
Each villa occupies three floors and spans an area of (325 sq.m).
Private garden & swimming pool (55 sq.m).
The ground floor consists of: Multi purpose hall, fully equipped kitchen, laundry room, maid room, driver room & Guest toilette.
The first floor consists of: Reception & living hall, fully equipped kitchenette, storage room & guest toilette. (some villas have extra room with toilette).
Second floor consists of: Master bedroom includes bathroom & dressing room, 2 bed rooms with joint bathroom.
All villas have internal elevator.
Apartments features:
Apartment's areas between (250- 280 sq.m).
Each apartment consists of: Reception, living room, guest toilette, master bedroom with bathroom & dressing room, 2 bedrooms with joint bathroom (some units have private bathroom for each), fully equipped kitchen, driver room & maid room.