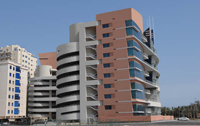 Located in the coastal border of Mahboula area, the Mermaid project is the first of its kind in Kuwait and the Gulf. Its unique architectural style is both unusual and outstanding. A culmination of creativity and luxurious opulence, the villas are distinguished by their direct sea views, first class finishing and their total privacy.
The Mermaid project consists of a multi-storey residential complex comprising spacious villas with a total area nearly 590 m2, each consisting of two storey, a wide garden, 2 private plush parking areas in front of each villa & separate external rooms for maids and drivers to maintain privacy to the tenants. Villas in the upper floors can be reached by cars, either by taking the car elevator or by driving on a circular ramp that leads to all levels, & for those who desire extra privacy, all ground floor villas have a private swimming pool.
As for the style, the design is highly creative with subtle hints of modernity and eminence. The materials used are of international standards. All villas have been built using high quality ceramics, Jacuzzi in the master bedroom, premium parquet wood for the stairs and the upper storey floors and the kitchens boast of high-class Italian models.
Modern security, comfort and top notch amenities feature high on the list of the Mermaid project making it a high quality integrated home. The complex is equipped with an advanced security system including an automatic fire alarm system as well as 24/7 security and safety service.
A 24-hour reception service is available, a rooftop amusement and entertainment services that include a play area for children, a squash court, a swimming pool, an integrated health club, a sauna, a multi-purpose room as well as green spaces for relaxation and comfort. It's a wonderful entertaining world on the roof with a stunning sea view.
Villa contents
Lower level:
Reception, Living & dining hall (approx. 120 m2)
Fully equipped Kitchen.
Maids room (with toilette).
Laundry room.
Guest toilette.
Upper Level:
Master bed room includes a clothing room + bathroom with Jacuzzi tub.
Master bedroom with bathroom.
Two bedrooms with joint bath room